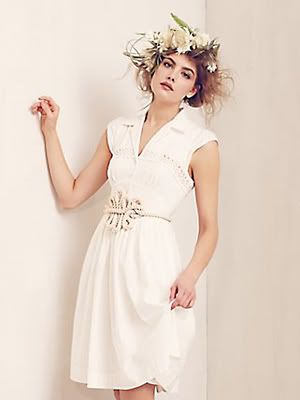 Wedding bells are ringing for
Anthropologie
! The brand's parent company, Urban Outfitters Inc., announced that it will launch a bridal collection featuring heirloom wedding gowns, bridesmaid dresses, accessories and gifts designed with Anthropologie's distinctively ethereal, feminine feel.
The still-unnamed bridal concept
launches in Spring 2011 as a Web site
, through which brides-to-be can schedule local fittings, before branching into stores. "We have found that many brides-to-be are inspired by our aesthetic," Anthropologie co-president Wendy B. McDevitt said in a statement. "We will unveil a brand that addresses this very special moment in her life with a goal of exceeding her expectations."Wedding gowns will retail from $750 to $5000, with occasion and bridesmaid dresses starting at $200.